Highlights from MSA Student Hackathon 2018
90 4th semester students at Media Studies has participated this year's MSA Student Hackathon finals with cases from Jyllands-Posten, Bestseller and Bloggers Delight.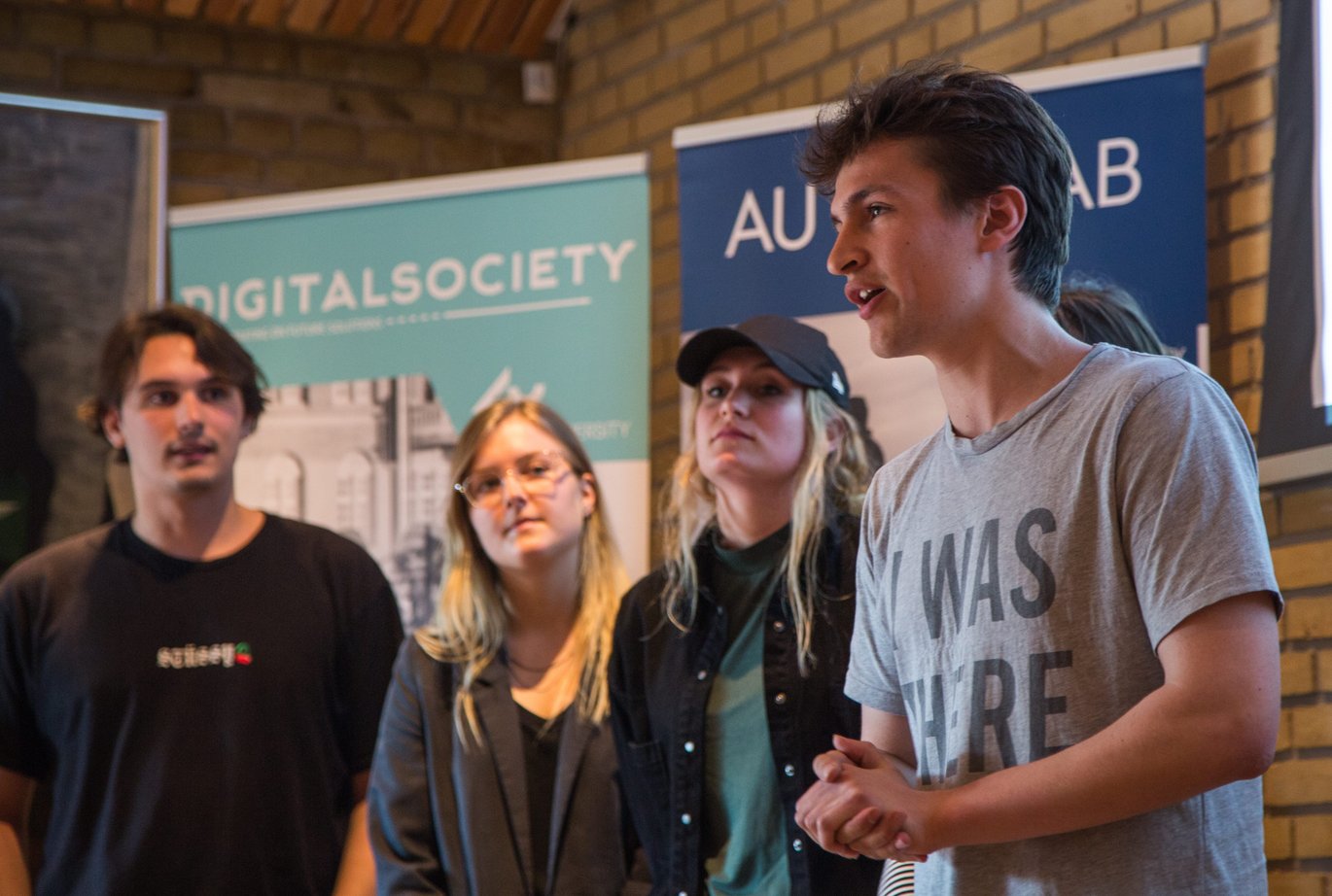 The sun shines in a clear sky as 90 4th semester students at Media Studies gather to participate in this year's MSA Student Hackathon finals. Less than half of them has advanced to the finals, and only a few of them will compete for a place on the podium.
As the students sit down, the judges meet in a room nearby. Representatives from Jyllands-Posten, Bloggers Delight and Bestseller – Jack & Jones have set the students three tasks concerning sponsored content and credibility. Together with representatives from Carat and Aarhus University, they are to judge and select three winners of this years' hackathon.
Students craft diverse solutions for companies
This year's hackathon sets out to reflect a diverse media landscape where user-generated and sponsored content is common practice. Therefore, both traditional media and new media companies and even a fashion company have set this year's cases. Although the companies differ a lot from each other, their challenges are somewhat the same:
How can you gain revenue from content directly or indirectly and comply with marketing regulations while at the same time appearing as a credible brand/media/influencer?
As the students show when presenting their ideas for possible solutions, the challenges related to sponsored content can be tackled very differently.
At Bloggers Delight, sponsored content is a vital part of the business model as influencers are signed for representing products at their blog and on social media. This is something that Bestseller make use of as a part of their marketing strategy to ensure authenticity and identification among target audiences. At Jyllands-Posten, sponsored content is merging with journalism in the form of native advertising – a hybrid of editorial content in its traditional sense and advertisement.
The race is close as the students manage to impress the judges with their creative ideas for how to solve and approach the issues concerned, but after more than one hour of debate, the judging panel are able to name three winning teams.
The winners of the hackathon
Bestseller – Jack & Jones: #MyJJMan. Looking for a new potential client base, this team turned to men and the women who partners with a potentiel "JJ Man", thereby basing the solution – a social media campaign named #MyJJMan pushed by influencers – on women's general interest in their partners' look and appearance.
Jyllands-Posten: Your JP. As cookies and algorithms decides what content we get to see online, this team aims to move the agency directly to the reader by letting the reader choose him/herself what type of content he or she wishes to be exposed to, thereby customizing JP.dk on the basis of one's choices and interests.
Bloggers Delight: Explore Delight. Aiming to find a new way to experience the content of Bloggers Delight, this team created a map with the influencers' recommendations for food and cultural experiences in metropolises. In this way, the user can easily find the valuable recommendations from influencers when going on a city holiday.
Debating the updated Marketing Act
The pivot of the debate among the participating companies is the newly updated Marketing Act. The consumer ombudsman is focusing on hidden advertisements, and all sponsored content is to be clearly marked in the first sentence in blog and social media posts.
At Bestseller, social media content is to work as a kind of 'mouth to mouth-recommendation'. When a influencer makes a post on social media, it should feel as though your friend recommends you a piece of clothing, but as the first words no longer are "look at this, mate", but "advertisement", the sincerity of social media posts is challenged.
For Bloggers Delight, sponsored content has been part of the business model from the very beginning, and they are surprised to find that the scrutiny is targeted against bloggers and not the news media as journalists also produce sponsored content and goes on free travels, etc.
As for Jyllands-Posten, the media company is still experimenting with sponsored content and how to make and display this kind of content side by side with editorial content without compromising the journalistic value of the news paper.
It is safe to say that the debate on sponsored content and hidden advertisement are to be further debated in the future ahead.
MSA Student Hackathon 2019?
During this year's hackathon, students at Media Studies got to work with cases from the industry and apply theory and methods on some of the problems they may engage in after graduation.
Likewise, the participating companies got – besides a bunch of good ideas – to experience how graduates of today think and work, and how Aarhus University educates their hopefully future employees.
By means of Digital Society innovation network project, DATALAB wants to place all important challenges of our digital society on the agenda and increase focus, dialogue and cooperation on these challenges across industry and academia. What challenges do you think needs attention?
Contact us with your input or proposals for how we can work together.