New EU research center launched at disinformation conference
Research in information disorder on social media will be focal point of a new research center hosted by DATALAB. The center was officially opened on Monday May 6th at a disinformation conference.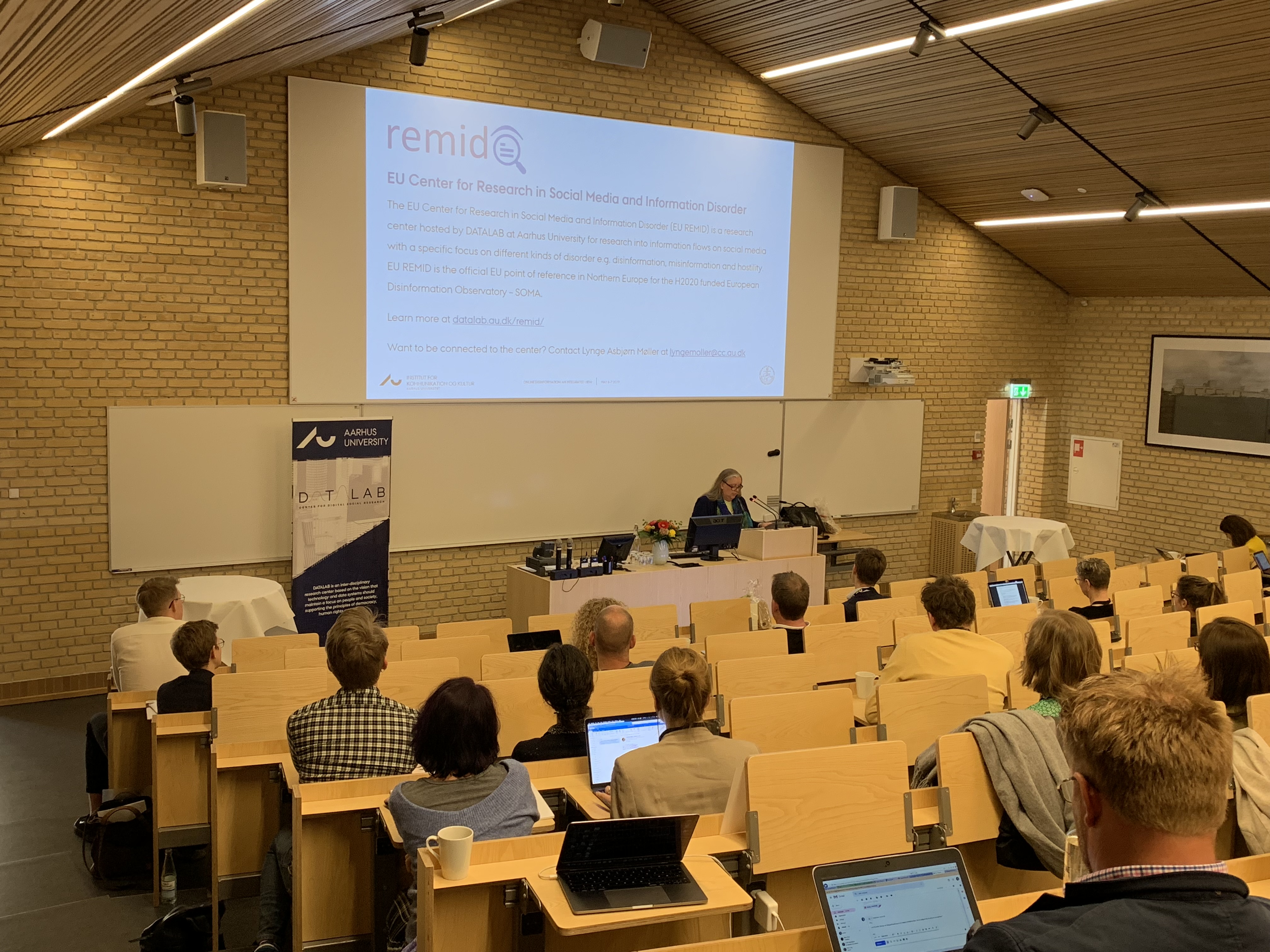 Online disinformation is a problem that crosses borders – both the national ones and the disciplinary ones. Fake news stories travel from country to country on social media and it is becoming evident that to fight it, several disciplines will have to team up – from computer science to social and political science and journalism to philosophy and psychology.
Such collaborations will be the focus of a new research center hosted by DATALAB at Aarhus University named EU Center for Research in Social Media and Information Disorder or just EU REMID. According Professor in Media Studies at Aarhus University and DATALAB director Anja Bechmann, better collaboration across disciplines is necessary to win the fight against disinformation:
"Instead of having researchers and journalists work with disinformation in their own silos, we will try to make more coordinated efforts in this center," Anja Bechmann says.
The center will function as a hub for interdisciplinary research into information flows on social media with a specific focus on different kinds of disorder, such as disinformation, misinformation and hostility.
But other than supporting researchers, EU REMID will also support teachers, fact checkers and journalists in their work against disinformation by offering knowledge sharing on latest issues, methods, results and effects, technological infrastructure, debunked lists and tools related to the H2020 funded European Disinformation Observatory - SOMA (Social Observatory for Disinformation and Social Media Analysis). EU REMID is the official point of reference in Northern Europe for the SOMA project.
The center was officially opened at the Online disinformation: an Integrated View conference at Aarhus University on Monday May 6th. The conference was the first of three international workshops on online disinformation, and kicked off the establishment of an interdisciplinary research network by gathering top researchers from across the globe to present and discuss their research on disinformation. You can read the programme for the conference here.
At the opening of the center editor-in-chief of MANDAG MORGEN, Altinget and TjekDet Lisbeth Knudsen said that disinformation challenges for our democracy by polluting our information environment:
"We talk a lot about plastic in the sea. We should also talk more about the pollution in our information environment. Disinformation seeks to destroy our confidence in democratic institutions and increase political confusion. Our democracies have never been more vulnerable," she said in her speech at the opening of EU REMID.
The Danish fact-checkers TjekDet – who are part of The International Fact-Checking Network – will be an official partner of the center. Other partners of EU REMID include Oslo Metropolitan University, The Danish Institute for Human Rights and Detektor – fact-checkers at the Danish Broadcasting Corporation.